Courtiers: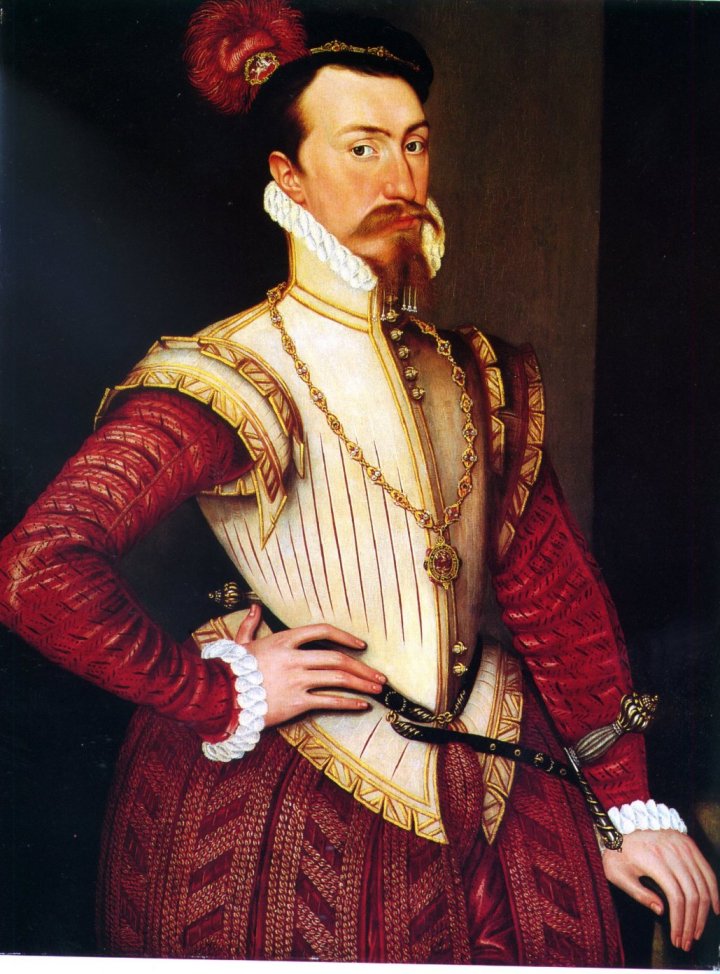 Robert Dudley, 1st Earl of Leicester (1532-1588). He was Elizabeth's favorite courtier, for many years he tried to marry her and she often gave him hope.


Picture thought to be of Robert Devereux, 2nd Earl of Essex 1565-1601). A favorite of Elizabeth I after the death of Robert Dudley. He was in charge of a military campaign in Ireland during the Nine Years War, for which he was utterly defeated, even leaving "absent-wihout-leave" and was put under house-arrest for it. He then attempted a coup d'etat against Elizabeth and was then executed for treason.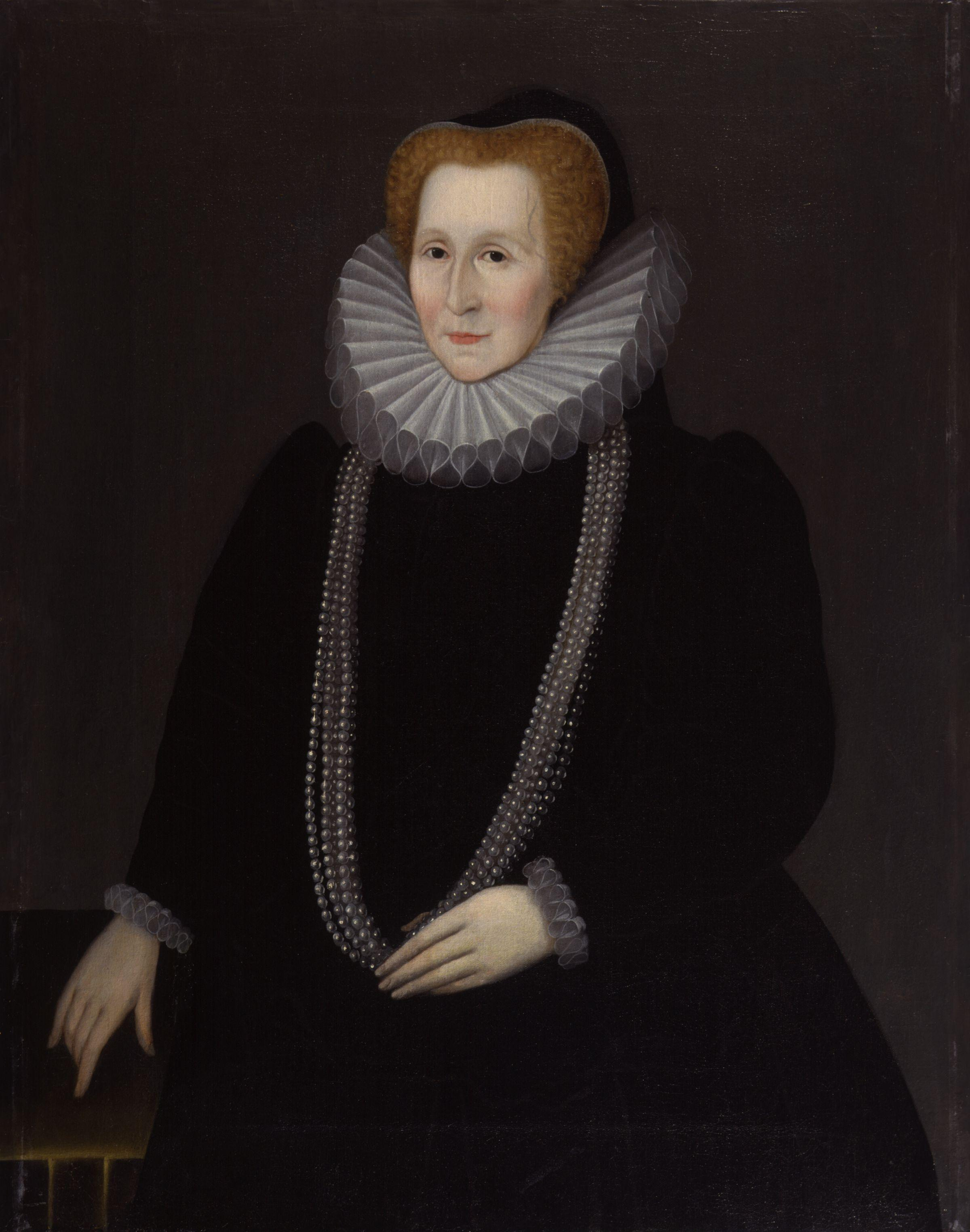 Elizabeth Talbot, Countess of Shrewsbury (1527-1608), better known as Bess of Hardwick. After Elizabeth, Bess was the richest and most powerful woman in England. After four strategic marriages she amassed a grand fortune and became famous for her building projects, especially two of them: Chatsworth, now the seat of the Dukes of Devonshire (whose family name is still "Cavendish", because they are descended from the children of her second marriage), and Hardwick Hall, of which it has been said for more than 400 years now: "Hardwick Hall, more glass than wall", because of the number and size of its windows.



 Sir Walter Raleigh (1552-1618), explorer during Elizabeth's reign. He rose rapidly in Elizabeth's favor and was knighted in 1585. In 1591 he secretly married Elizabeth Throckmorton, one of the Queen's ladies-in-waiting, without the Queen's permisson, for which he and his wife were sent to the Tower of London. After his release, they retired to his estate at Sherborne, Dorset. After Queen Elizabeth I died in 1603, Raleigh was again imprisoned in the Tower this time for allegedly being involved in the Main Plot against James I. In 1616 he was released from the Tower in order to conduct a search for "El Dorado", but returned unsuccessful and was arrested an executed in 1618.

Francis Drake (1540-1596) English sea navigator and renowned pirate. Elizabeth I of England awarded Drake a knighthood in 1581. He was second-in-command of the English fleet against the Spanish Armada in 1588, subordinate only to Charles Howard and the Queen herself. He lead the first English circumnavigation of the world, from 1577 to 1580. He died of dysentery in January 1596 after unsuccessfully attacking San Juan, Puerto Rico which was a Spanish fort at the time.
Lady Arbella Stuart (1575-1615) the maternal grandaughter of Bess of Hardwick, she was for some time considered a possible successor to

Elizabeth

on the English throne. She was a direct descendant from Henry VII (Elizabeth's grandfather), and cousin to Elizabeth. However, between the end of 1592 and the spring of 1593, Elizabeth and some of her Council members focused their attention on James VI of Scotland, viewing him as a more favorable successor.In 1610, Arbella, who was fourth in line to the English throne, was in trouble again for planning to marry William Symour. For marrying without James I permission, the king imprisoned them: Arbella in Sir Thomas Perry's house in Lambeth and Seymour in the Tower of London. She later ended up in the Tower herself after trying to escape house arrest, and died there after starving herself to death.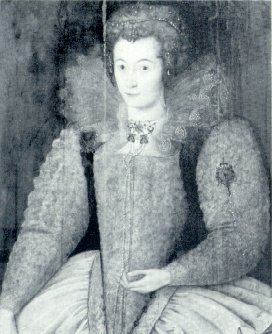 Blanche Parry (1507/8-1590) was Lady-in-Waiting to Queen Elizabeth,

Chief Gentlewoman of Queen Elizabeth's most honourable Privy Chamber and Keeper of Her Majesty's jewels. She was in charge of the Queen's jewels from before Elizabeth's accession, the Queen's personal papers, clothes, furs and books, receiving the presents given to the Queen especially as New Year gifts. Elizabeth treated her as a baroness, and amongst the material rewards she received from Elizabeth were two wardships and she acquired lands in Herefordshire, Yorkshire, and Wales.
Sir Christopher Hatton (1540-1591) was an English politician, lord chancellor of England, and favorite of Elizabeth. He grew very wealthy from his political career and as being a favorite of Elizabeth's, in 1583 he decided to construct a magnificent house which became known as Holdenby House in Holdenby, Northamptonshire. It was, at the time, the largest privately owned Elizabethan house in England (it even had 123 windows).
Phillip II of Spain (1527-1598) was the chief enemy of Elizabeth. He had been married to Mary I of England, and when Elizabeth ascended to the throne he send a marriage proposal to her. At first he attempted to remain friendly with England, but when Elizabeth sided with the Protestant rebels in the Netherlands, and the increasing amount of pirating by English ships against Spanish, Phillip considered this an act of war. The execution of Mary, Queen of Scots in 1587 ended Philip's hopes of placing a Catholic on the English throne. He turned instead to more direct plans to invade England, with vague plans to return the country to Catholicism. In 1588, he sent a fleet, the Spanish Armada to attack England; in a fierce battle the English won taking a lead as great world power.
Mary, Queen of Scots (1542-1587) In 1558, she married Francis, Dauphin of France, who ascended the French throne as Francis II in 1559. Mary was not Queen of France for long; she was widowed on 5 December 1560; Mary then returned to Scotland. Four years later, she married her first cousin, Henry Stuart, Lord Darnley. Their union was unhappy and in February 1567, Darnley was found dead, apparently strangled, in the garden supposedly by James Hepburn. In addition to Mary quickly married Hepburn after the incident, as well as other factors, there was an uprising againt the couple and she was imprisoned in Loch Leven Castle. She was soon forced to abdicate to her 1 year old son James. After an unsuccessful attempt to regain the throne, Mary fled to England seeking the protection of her first cousin once removed, Queen Elizabeth I, whose kingdom she hoped to inherit. Mary had previously claimed Elizabeth's throne as her own and was considered the legitimate sovereign of England by many English Catholics. Perceiving her as a threat, Elizabeth had her arrested. After 19 years in custody in a number of castles and manor houses in England, she was tried and executed for treason for her involvement in three plots to assassinate Elizabeth.
James I of England, IV of Scotland (1566-1625) The son of Mary, Queen of Scots, and the successor to Elizabeth I of England.
William Cecil, 1st Baron Burghley (1521-1598) an English stateman, the chief advisor of Elizabeth I for most of her

reign

, twice Secretary of State (1550–1553 and 1558–1572) and Lord High Treasurer from 1572.
Sir Francis Walsingham (1532-1590) was Principal Secretary to Elizabeth I from 1573 until 1590, and is popularly remembered as her "spymaster". He oversaw operations which penetrated the heart of Spanish military preparation, gathered intelligence from across Europe and disrupted a range of plots against the queen, securing the execution of Mary, Queen of Scots.